Melt Flow Index Testing Service for Polyethylene at 190°C and 2.16Kg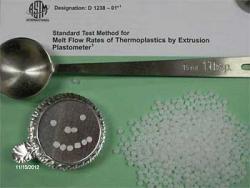 Test method: ASTM D1238 Method for Flow Rates of Thermoplastics by Extrusion Plastometer.
Fast Turnaround Time: Same day testing when you enclose a check with the samples.
Sample size is 1 table spoon (15ml) 12-20 grams in pellet, flake or powder form.
Send your samples to: 
Associated Polymer Labs 
10 Maple Street
Hudson Falls,  New York  12839
What is a Melt Flow Index?
Melt Flow Rate (MFR) or Melt Flow Index (MFI) is the flow measurement of polyethylene being pushed through a 2mm diameter die at 190°C with 2.16 kg mass. The result is expressed in grams per 10 minutes (g/10 min).
Experimental Procedure Summary
Approximately 6 to10 grams of polyethylene is loaded into the barrel of the melt flow plastometer, heated to a temperature of 190°C. A plunger is placed into the barrel on top of the polyethylene pellets for a specified amount of time with a pre weight. A 2060 gram weight is applied to the plunger to force the molten polyethylene through the 2mm die. Several timed extrudates are collected and weighed. Melt flow rate values are calculated in g/10 min.
Calculation of Melt Flow Rate =  (600/t(sec) x mass of extrudate in grams)
t = time of extrudate in seconds
Payment Terms are paid in full before test results are released. Contact Laura at 518-290-6804  for credit card or PayPal payment. A check can be submitted with samples.
APL is an established laboratory founded in February 1999. Corporate commitment is to help clients and associates find the right answers to specific manufacturing problems.
Address: 10 Maple Street,  Hudson Falls,  New York  12839
Phone: 1-518-290-6804
Email: info@testplastic.com
Plastic Additive Analysis
Deformulation and Competitor Evaluation
Failure Analysis and Problem Solving
Material Composition, Identification, and Evaluation
New Product Development
Quality Assurance Programs
Small scale laboratory and extrusion services
Patent infringement services.